For many years in which we have been into the design and manufacture of various filling machines and equipment such as the water filling machine, we have grown with the industry, and have contributed immensely to the development of new ideas in the industry.
Being a renowned brand with a global reputable as one of the leading manufacturers of high quality water filling machine, most of our clients all over the are proud to always have one business transaction or the other with us.
With this high level of patronage and exposure, we are consistently dedicated and poised to ensuring that we give nothing less than the best quality to our customers whenever they need our products and services.
Also notable about why we have continued to be a trusted and the most reliable brand many customers of ours if the fact that our company is made up of a team of highly experienced and exposed individuals who have worked in the manufacturing industry for many years.
With such a high degree of exposure and experience, it then becomes very easy for us to always dish out the best products to our customers, since we are well vested in all the nitty gritty that the requirements of the marketplace per time.
While we continue to enjoy this outstanding and resounding patronage from our loyal clients by the day, we are also glad that new customers are also seeing us a potential partner they can work with, especially when investing their hard-earned money in the best machines is their goal.
For this reason, all we do every day is to ensure that our pledge to be the best in the industry by producing only machine of the best quality is reaffirmed as we produce each piece of equipment for our teeming clients all over the world.
Well, most recently, we had a couple of visitors to our production facility to inspect and see how things are going on in the company.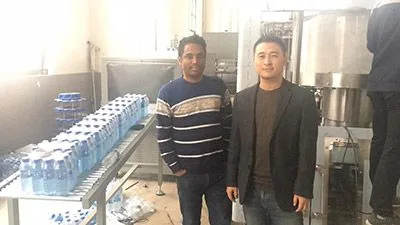 However, these visitors were no new faces to us, as they are some of our loyal and faithful clients from the Middle East who have been a strong partner with our company for donkey years.
As part of their mission to visit our company, our customers from the Middle East came down to discus with us on how to extend their bond of business with us from other products of us to the water filling machine since that is one of the recent production facility they are trying to setup in the Middle East.
During the visit, the customers met with our top management staff as well as heads of various departments in the company, and as it is our core responsibility, we were able to advise and guide our clients on the specification of the water filling machine that will match their production facility.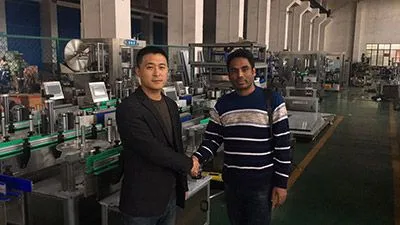 Frankly speaking, the meeting and visit was worthwhile, and all our visitors as well as the various staff in the management team of the company had a nice and memorable time together throughout the period of our customers' stay.
Partner with us for the best water filling machine
We pride in our vast exposure when it comes to the design and manufacture of high-quality water filling machine as well as other product filling equipment.
And our goal in the industry is to always remain a trusted and reliable brand that will proffer a long term solution to the needs of our loyal and prospective clients.
So, in case you need the best value for your investment, kindly contact us for consultation or to purchase any of high first-class production equipment.