The bottle water filling machine has gained huge importance in the mineral water and beverage industry. This machinery revolutionizes how the filling procedure was done before with its benefits. So, every business looking to compete in the industry must get the latest machinery, and here is why.
Top 6 benefits of a bottle-filling machine
Here are the top 6 benefits of the bottle water filling machine:
1. Consistency means quality for the customers
The manual filling often leads to inconsistency, meaning that one bottle may get more liquid than required while the other gets less. It creates an inconsistency in your product line, which indicates a lack of quality to customers. On the other hand, with this machinery, your product line can maintain the much more important consistency with the same amount of water in every bottle.
2. Quicker production speed improves productivity.
These machines are designed to fill several bottles simultaneously. While manual fillers can only work on 2 bottles simultaneously, the speed can be significantly increased. So, with these bottles, you may finish hundreds and thousands of water bottles every day significantly increasing your productivity and resulting in better time to market.
3. Long-term usage with peace of mind
These filling machines are made with long-lasting and durable parts that don't get much wear and tear. So, once investing in this machinery, your business can keep them running for a long time only with a few workers. More importantly, these machines can bring energy savings, workforce savings, and peace of mind for long-term experience.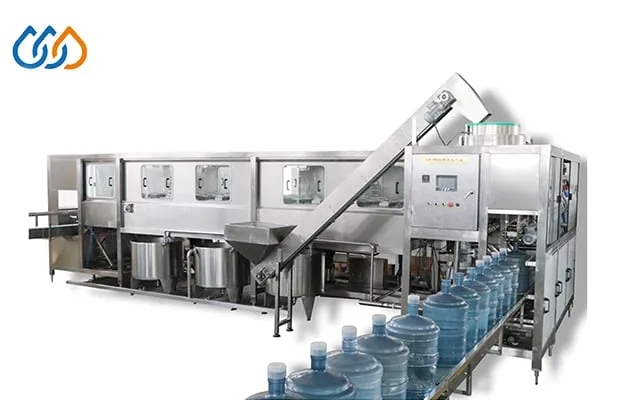 4. Scalable with your business
One of the best benefits here is the scalability you can enjoy with these machines. As your business grows, you may need to improve the hardware as well, and with the filling machines, you don't need to change the whole machinery.
Simply replace the parts for your growth needs, and you will have an upgraded performance. For example, if your machine currently has 4 filling heads, you may upgrade them to 6, and the same machine will scale with your business needs.
5. Simple operations without any complexities
The water bottle-filling machines are designed to offer a simple user experience. The operating systems of these machines are easy to learn, and your employees can learn over a short period. There are only a few specifications to learn about, including the filling time, indexing time, and pumping speeds for machines that need manual configuration. Otherwise, you will enjoy an automatic usage experience.
6. Usage versatility
Industrial-level filling machines are not designed for filling water only. Instead, these can work with different types of liquids and containers. You only need to adjust a few settings on these machines to meet the requirements of the new liquid, and its container and the same machine will be ready to work with a new product.
Get the best bottle-filling machines for your business
The bottle water filling machine comes in different sizes with many similar and a few varying features. So, before you get yours, it is better to know the exact requirements and buy the one you need.