Automatic DXGF 16-16-5 PET/Glass Bottle/Can Carbonated Soft Drinks Washing Filling Capping Whole Line A-Z
The DXGF carbonated drink filling monoblock is used to fill carbonated drinks into plastic or glass bottles.Washing,filling,sealing can be carried out on the same machine.The design of the machine is scientific and reasonable.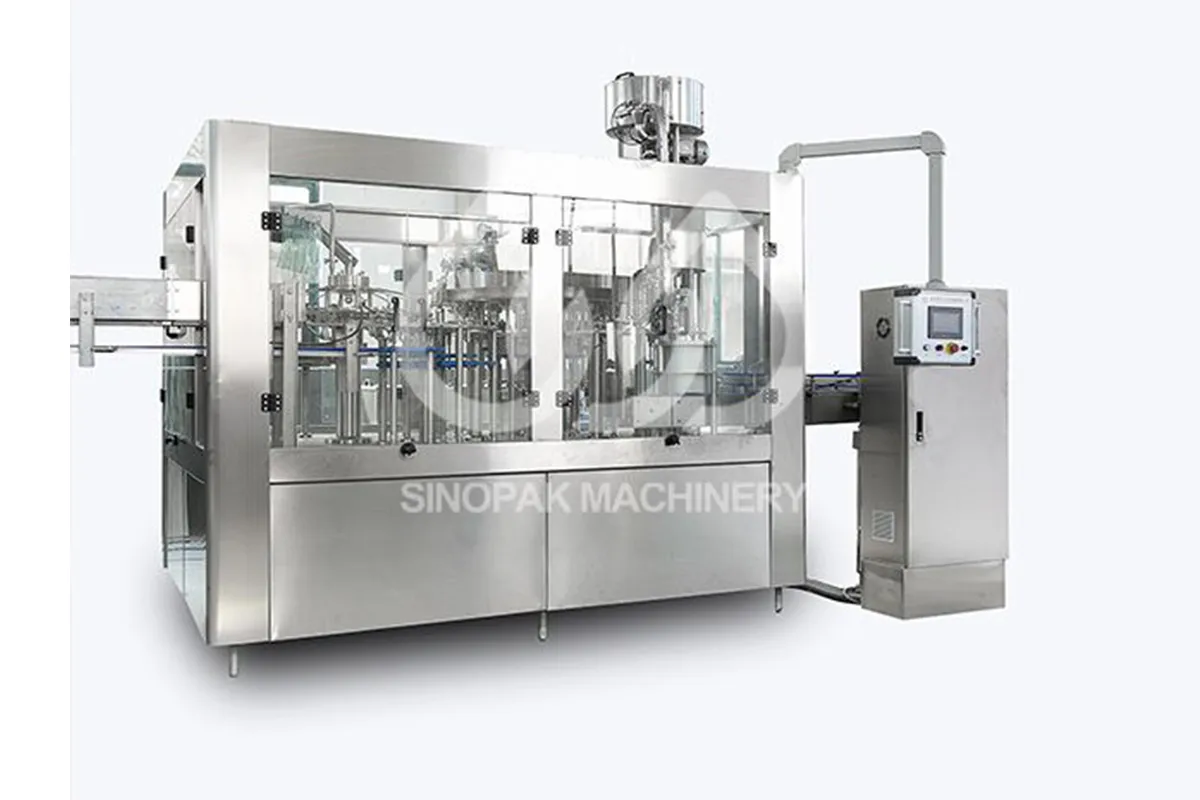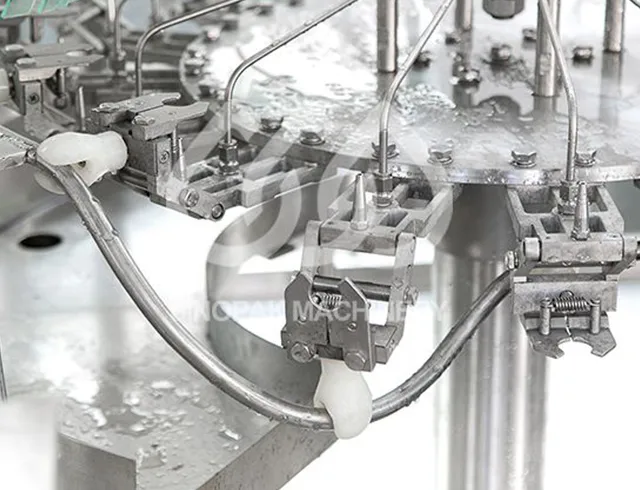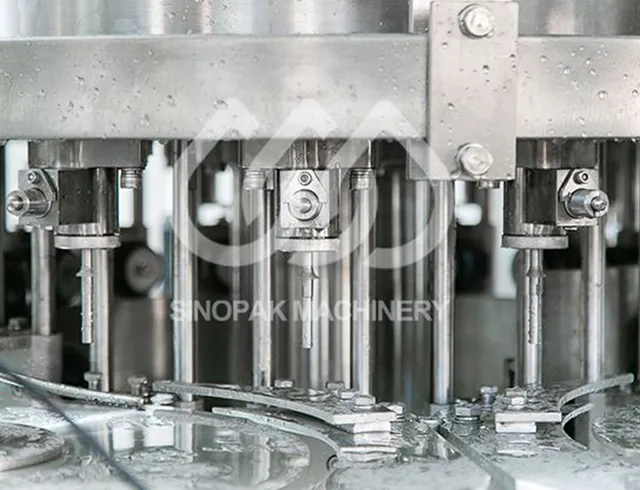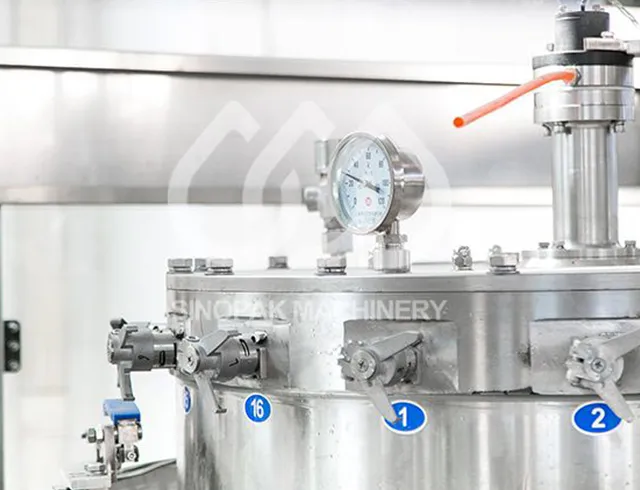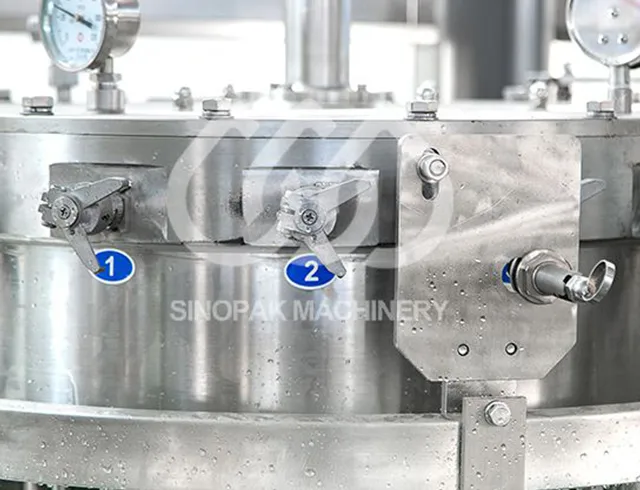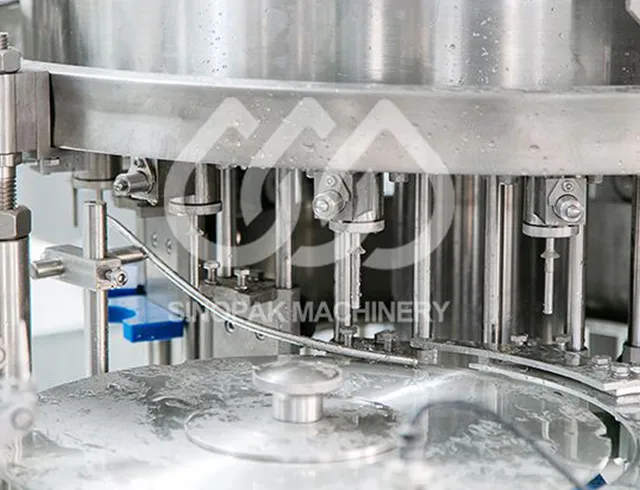 Carbonated soft drink plastic bottle filling machine
Washing part:
All 304 stainless steel rinser heads, water spray style inject design, more save water consumption & more clean
304 Stainless steel Gripper with plastic pad, ensure minimal bottle crash during washing
304 stainless steel washing pumps
Filling part:
The centering oriented adopts guide rod with special bottle neck holding
Filling temperature:0~4℃
All 316 stainless steel contact parts & liquid tank, fine polish, easy to clean
Isobaric filling , & filling smoothly & steadily
Capping part:
Place & capping system, electromagnetic capping heads, with burden discharge function, make sure minimum bottle crash during capping
All 304 stainless steel construction
No bottle no capping and Automatic stop when lack of bottle 
Bear filling machine
Production Description:
This Beer Filling Machine Wash-filling-capping 3-in-1unit is used to produce glass bottled beer. The BXGF Wash-filling-capping 3-in-1unit:beer Machinery can finish all the process such as press bottle, filling and sealing, it can reduce the materials and Outsiders touch time, improve the sanitary conditions, production capacity and economic efficiency.
Washing Part:
Except the down framework, the transmission parts and some parts that must be made of special materials. Other parts are all made of stainless steel 304. 
The roller bearing is made of stainless steel, the sealing ring is made of EPDM material, and plastic is made of UMPE. 
The gripper is made of stainless steel, the position where hold the bottleneck is made of food standard rubber;
Rinsing time can be guaranteed for 4 seconds. 
Filling part
Filling machine with spring-type mechanical lifting equipment to upgrade glass bottles, large bearing support floundering in the vat and use of guide-rod in the orientation of the structure, there are pre-cover features.
Long-tube filling valves are adopted, with CO2 fully exchanging with air inside glass bottles, to decrease the rinsing of oxygen effectively. with cylinder liquid level and the back pressure controlled by a variable signal proportional. Fast, stable, accurate, to be vacuum one at a time.
Capping part:   
Cap distributing chute is equipped with reverse cap stop and reverse cap pick-out mechanism.
Cap distributing chute is equipped with a photocell switch to stop the capper when there is no cap inside the chute.
The capper is equipped with inlet bottle detection switch.
Centrifugal way of cap arranging is adopted to reduce damage of caps
Project Name:Beer Filling Machine

Model

BXGF6-6-1

BXGF16-12-6

BXGF18-18-6

BXGF24-24–6

BXGF32-32-8

BXGF40-40-10

Capacity(BPH)

500

2000

 

4000

6000

8000

10000

Suitable bottle and cap

Glass  bottle with crown cover

Filling temperature(℃)

0~4℃

Filling theory

vacuum & isobaric filling

Application

Beer filling machine

Total powder

1.2KW

2.2KW

2.2KW

3.7KW

5.5KW

7.5KW
The Can beverage filling machine
Electric Part & Safe Device & Automation:    
l When accident system automatic stop & alarm
l Emergency switch when accident
l PLC control full-automatic working, inverter in-build, speed adjustable
l Touch-screen Control Panel, easy operate
l Famous Omron brand sensor & other electric parts adopted, ensure system heavy duty running
Machine Base & Machine Construction:     
l 304 stainless steel frame
l Excellent start wheel design, easy change over parts
l Machine Base with anti-rust process, ensure the forever antirust
l All seal where liquid may Leakage & base neck come with rubber, water proof
l Manual lubrication system
2.Filler Station:     
l High precision filling nozzle , ensure high filling precision & filling smoothly & steadily,
l Isobar Pressure filling nozzles which ensure minimal loss of CO2 from the drink
l All 304 stainless steel contact parts & liquid tank, fine polish, easy to clean
l CIP ( clean in place) sideway pipeline in-build, can connect with CIP station or Tap water to clean
3.Capper station:     
l Electromagnetic sealing heads
l All 304stainless steel construction
l No cans no sealing and Automatic stop when lack of sealer
Model

TFS-D-6-1

TFS-D-12-1

TFS-D-12-4

TFS-D-20-4

TFS-D-30-6

TFS-D-60-8

Capacity(BPH)

600-800

1500-1800

4500-5000

12000-13000

17000-18000

35000-36000

Suitable bottle

PET Can,Aluminum Can ,Iron Can and so on

Filling precision

≤±5mm

Filling pressure

≤0.4Mpa

Powder(KW)

2

2.2

2.2

3.5

3.5

5
This carbonated beverage filling machine combines washing, filling, and rotary capping functions in one unit. It is fully automatic and high-efficiency liquid packing equipment. 2. carbonated beverage filling machine is suitable for packing beverages containing gas. Carbonated beverage filling machine's performance follows all parts, such as filling valve, which directly contacts mediums made of stainless steel or harmless material. So it conforms to the requirements of Food sanitation. Sealing parts are made of heat-proofing rubber to meet users' technique requirements to sterilize at high temperatures.