Liquor & Alcohol Filling Machine (Glass bottle ROPPCrown metal cap)
Adopting the bottle bottom holding type to send bottles into filling machine through bottle inlet screw via thrum bottle star wheel, and then the bottles will be held by lifting device, and achieve up and down under the function of lifting cam and down pressure cam. The filling model is precisely filling. After bottle mouth raises to contact valve and open valve, then starting to filling; when finish filling, the bottle mouth falls and leaves valve, also bottle is leading-out filling machine by bottle holding type, and conveyed to convey chain by thrum bottle star wheel.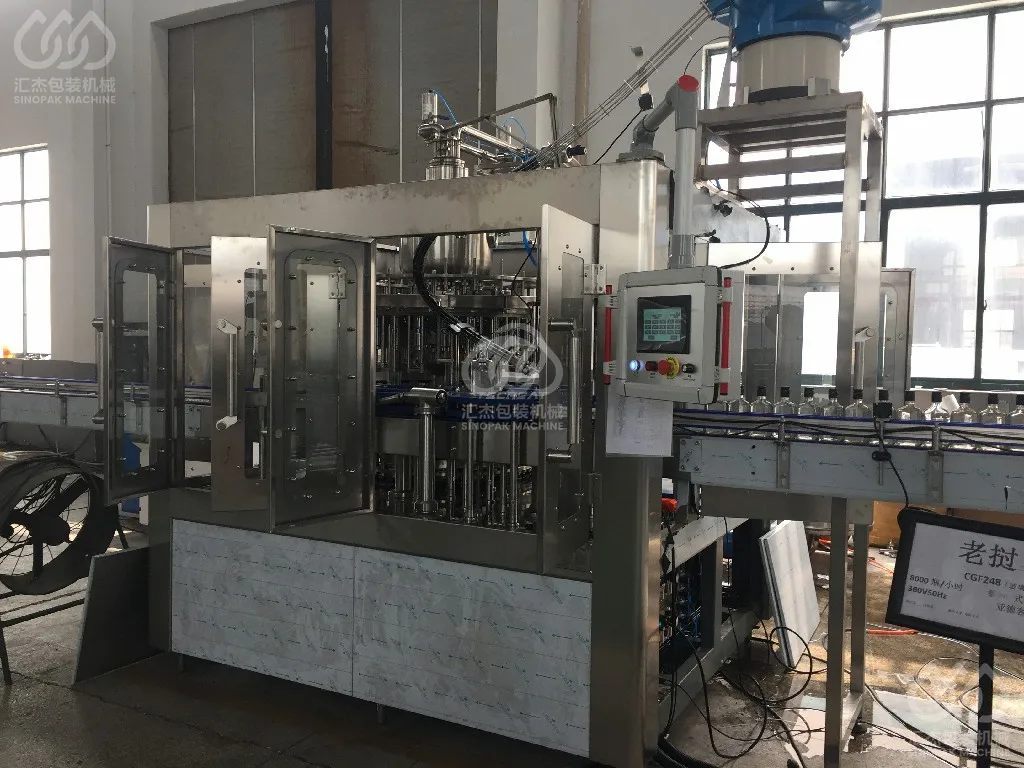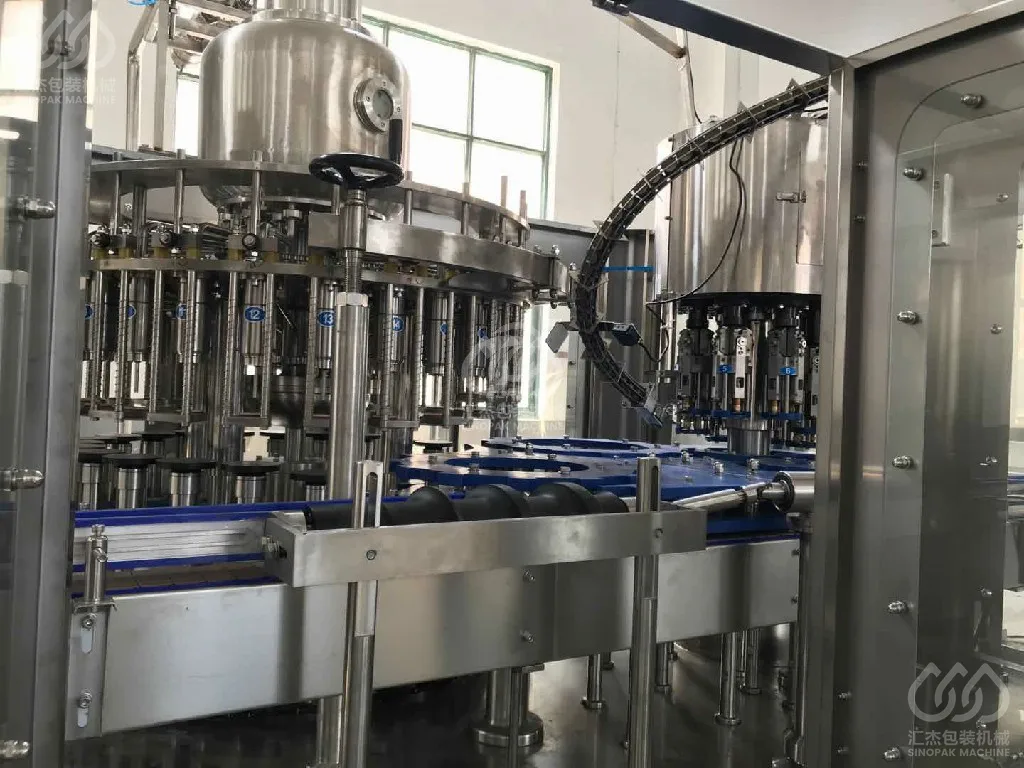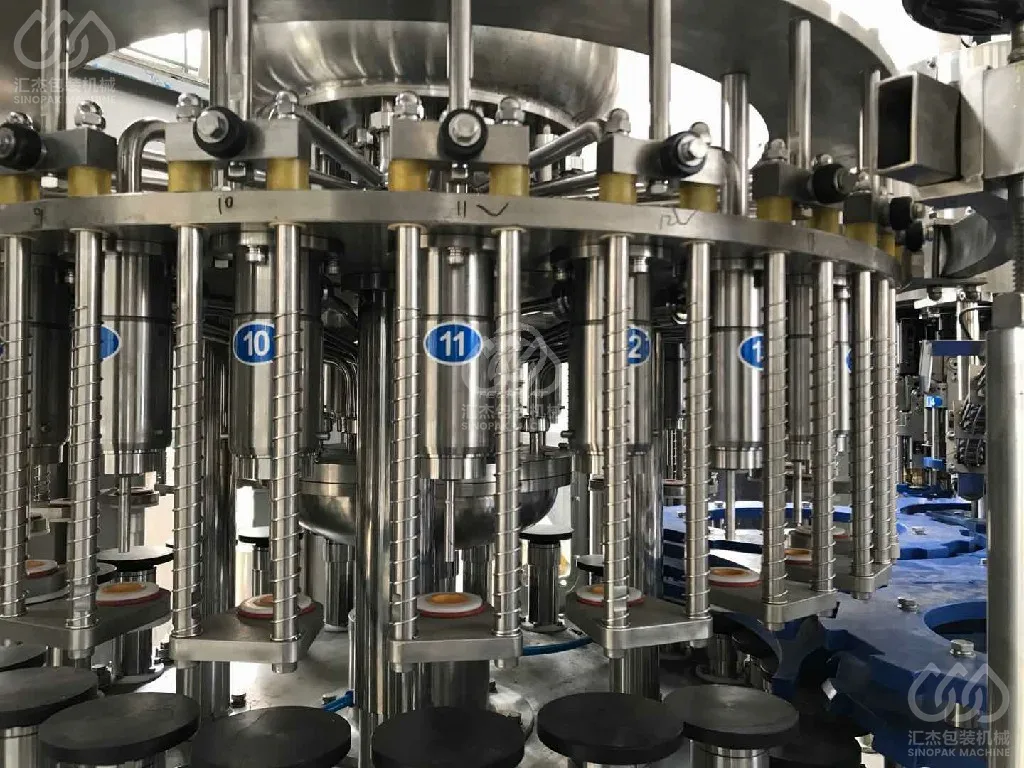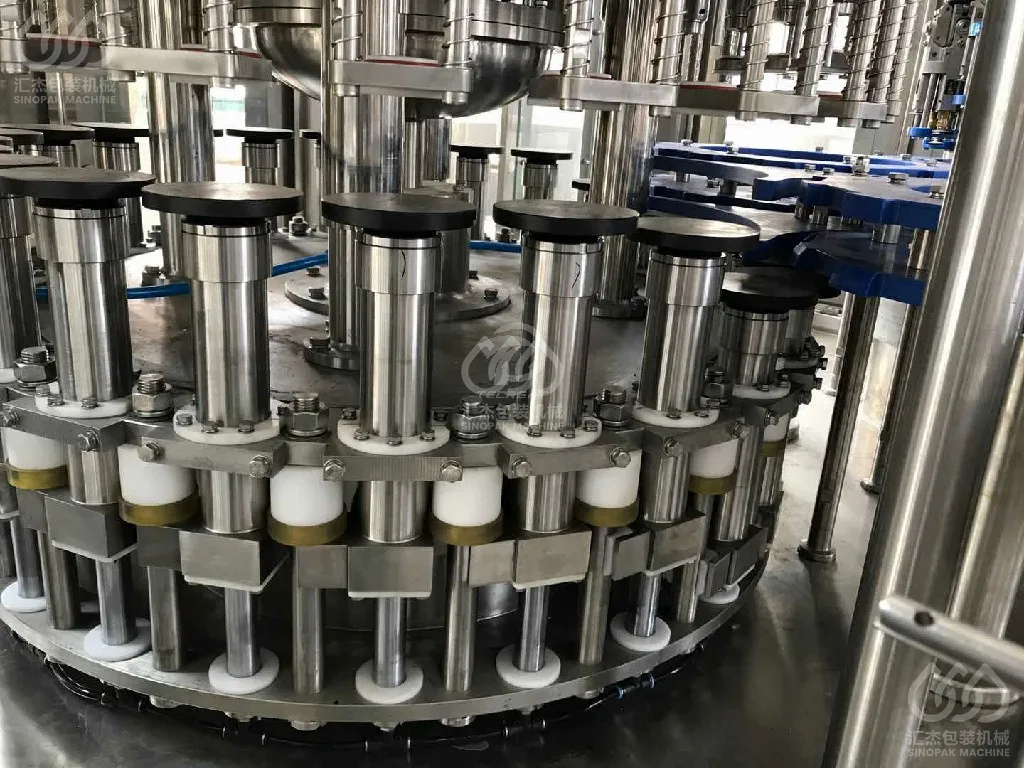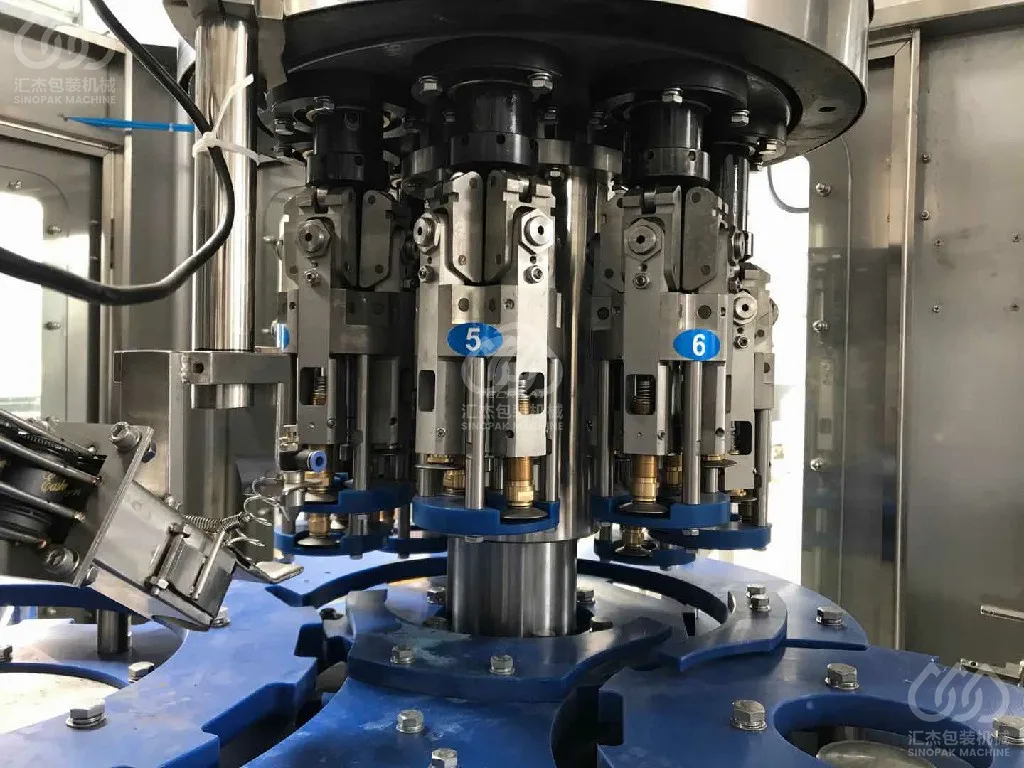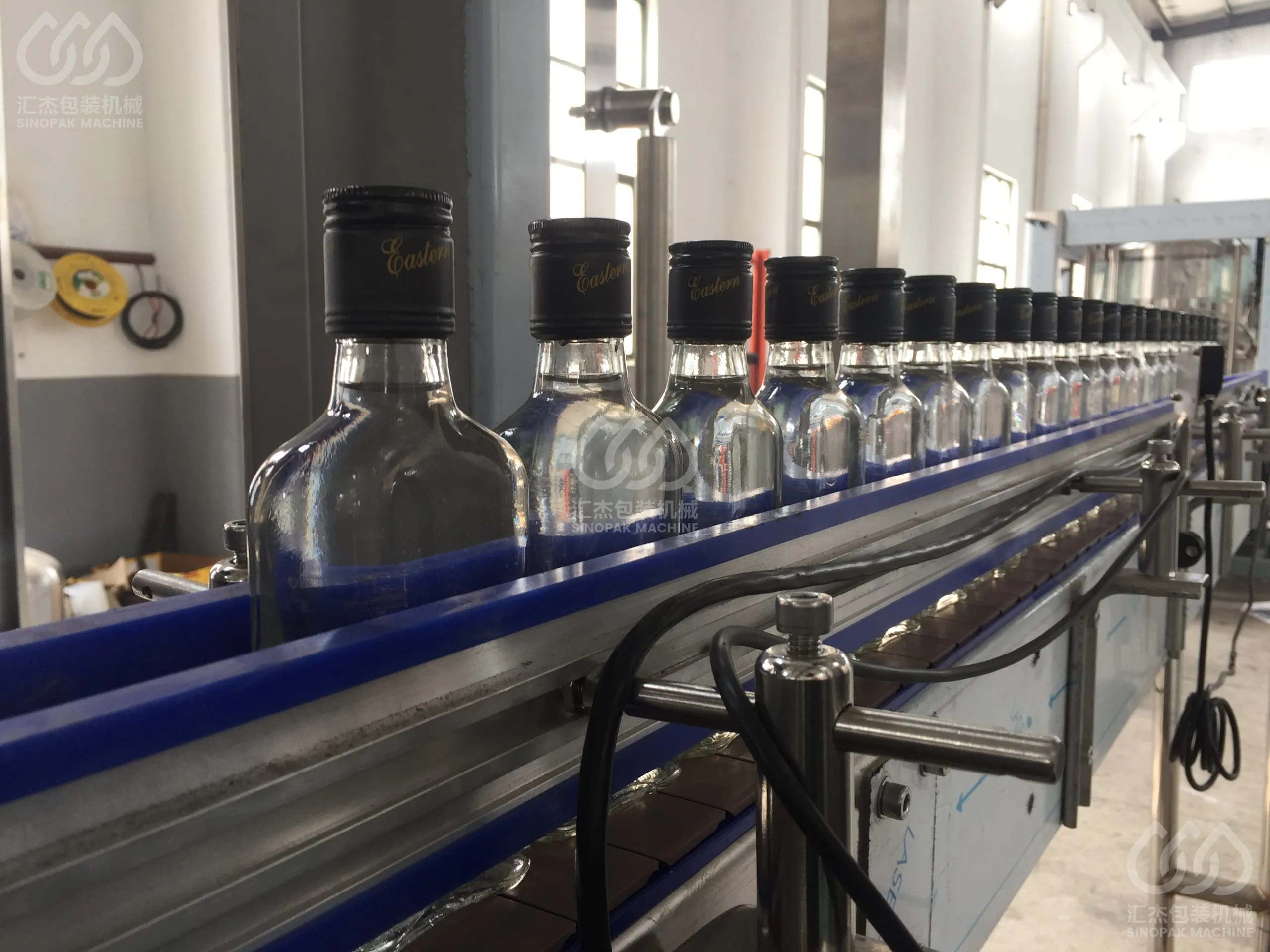 Main features : 
This machine has a compact structure, perfect control system, easy to operate and highly automated.
The parts contact with product is made of quality SUS, anti-corrosive, and easy to clean.
By adopting high speed filling valve, the liquid level is precise and no waste. That guarantees the demand of filling technology.
Only by changing the bottle block, star-wheel, can realize to fill the changed bottle shape.
The machine adopts perfect overload protective device can ensure the operator and machine safe.
This machine adopts frequency converter, which can adjust the capacity suitably.
The main electric components, frequency, photoelectric switch, proximity switch, electric control valves all adopt imported components, which can ensure the quality performance.
The control system has many functions, such as control producing speed, and production counting etc.
The electric components and pneumatic components are all introduced from world famous brand products.
 

Model

 

 Washing Heads

 

Filling Nozzle

 

Capping Heads

 

Dimension

mm

 

Power

kw

 

Capacity

BPH

VXGF 14-12-5

14

12

5

2380*1750*2350

2

3000

VXGF 24-24-8

24

24

8

2860*2230*2350

3

6000

VXGF 32-32-8

32

32

8

3500*2650*2350

4.7

8000

VXGF 40-40-10

40

40

10

3800*2950*2350

7.5

12000

VXGF 50-50-12

50

50

12

5900*3300*2350

9

15000
Production Lines Flow Chart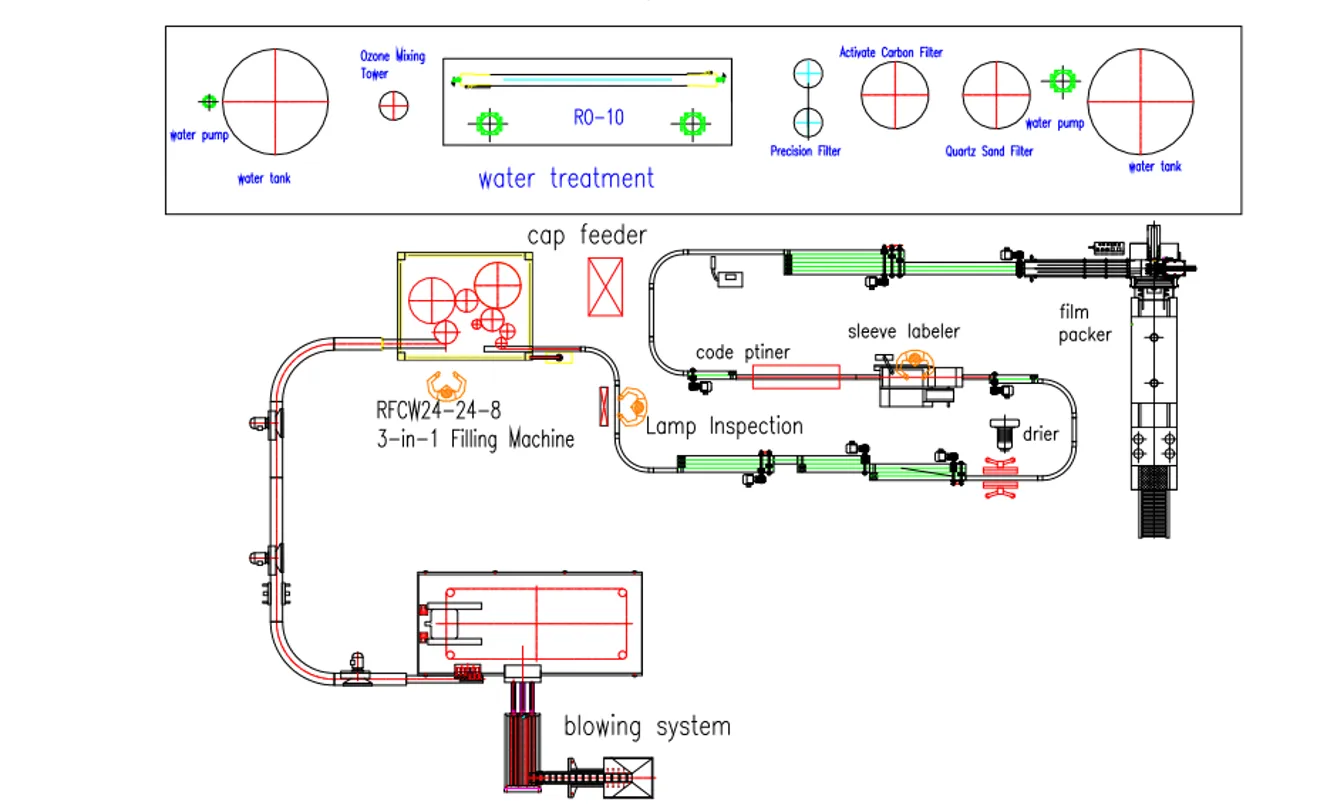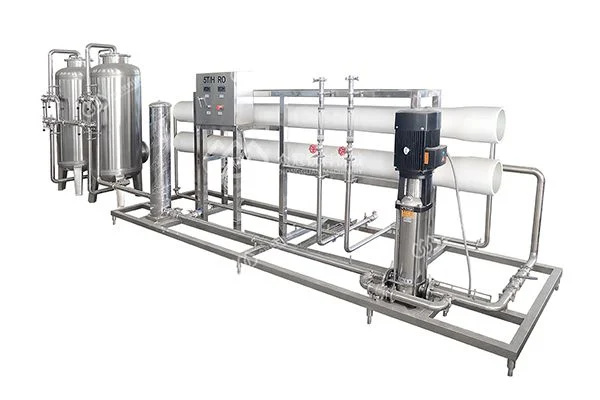 Water purification machine to treat fresh water for pure, drinking, mineral water. Our plant could make drinking water, mineral water, pure water and potable water from the water sources: Ground, spring, well, river, brackish, lake water and etc.
Raw water source: Bore whole, river, well, mountain spring, lake, etc
Automatic blow molding machine is suitable for producing PET plastic containers and bottles in all shapes. It is widely used to produce the carbonated bottle, mineral water, pesticide bottle oil bottle cosmetics, wide-mouth bottle and hot fill bottle etc.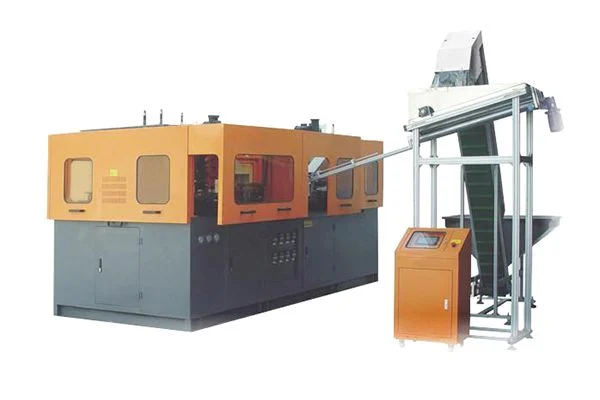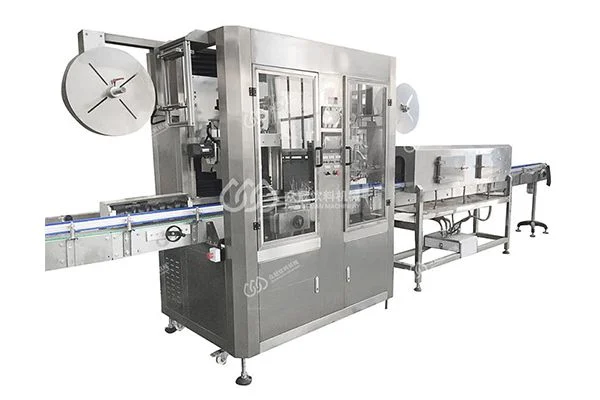 Automatic labeling machine
It adopts double driving structure which is a new and advanced driving device for the thermal shrink sleeve machine, that is, four-wheel driving, self-centering and balanced pressure of four wheels. It can achieve the good effect of transmission of labels smoothly, stably and rapidly.
This Pet Bottle Shrink Wrapping Machine is a kind of automatic unmanned operation of the L type sealing and cutting machine, widely used in mass production packaging line production, suitable for different width and height products. The Pet Bottle Shrink Wrapping Machine also has the function of contact , specially designed for packing small products.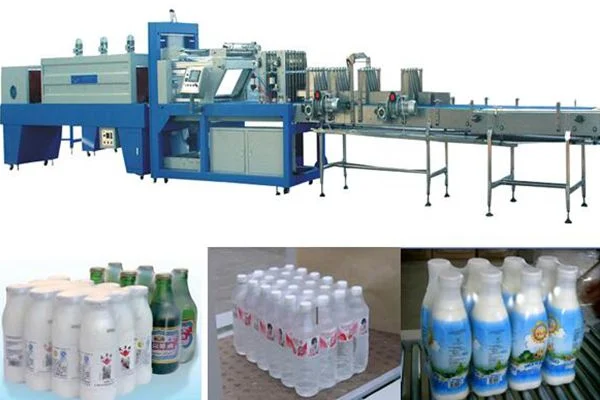 This Fruit Juice Hot Filling Machine Wash-filling-capping 3-in-1 unit and washing-fruit pulps filling- liquid juice filling-capping 4-in-1 machine are used to produce glass/PET bottled drinking juice. The RXGF Wash-filling-capping 3-in-1 unit: juice Machinery can finish all the process such as washing bottle, filling and sealing, it can reduce the materials and Outsiders touch time, improve the sanitary conditions, production capacity and economic efficiency.