In recent years, consumer resistance to disposable plastics has prompted beverage brands to improve packaging and even switch to glass and aluminum packaging. But not all plastic bottles are the same. Major brands are testing various options.
As a professional PET bottle drink filling machine manufacturer, we have always provided customers with quality-guaranteed products. Drinking water, beverages, daily chemicals, etc. filled with our machines are all worthy of rest assured.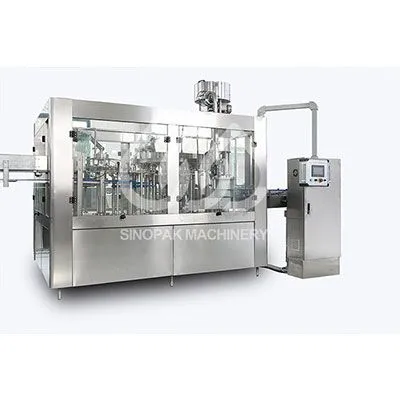 As consumers around the world generally pay more attention to environmental health and are more likely to purchase products that promise sustainable development, it is difficult for traditional beverage brands to deal with the plastic problem. Mainstream soft drinks, bottled water, juices, ready-to-drink coffee and tea all rely on plastics.
But recent innovations in beverage brands show that plastics have different development directions. Established brands such as Coca-Cola and Pepsi still rely heavily on plastics, but they try to offset the impact of plastics by investing in recycling projects.
Reduce, not give up
The Coca-Cola sustainability director recently expressed greater support for the company's decision to insist on using plastic bottles instead of completely switching to glass or aluminum. At the World Economic Forum in Davos earlier this year, she said that Coca-Cola consumers still prefer plastic because the bottles are re-sealable and light.
Pepsi Cola also stated that plastic "is an effective and sustainable packaging material when it is recycled." But it also recognizes the need for the development of plastics: for example, through lightweighting, exploring new packaging forms, such as biodegradable and compostable packaging.
Neither party intends to completely abandon plastics. Both parties invest in partnerships to improve recycling infrastructure and reduce their respective plastic usage.
Coca-Cola stated that their plastic bottles are made of on average 25% rPET and 75% virgin PET, and its goal is to reach 50% recyclability by 2030.
PepsiCo hopes to reduce the virgin plastic in beverage bottles by 35% by 2025 and increase the recyclable content of plastic packaging in its product portfolio to 25% in the same year.
Improve recycling
Together with Keurig Dr Pepper, Coca-Cola and Pepsi launched the "Every Bottle Back" initiative. The initiative is led by the American Beverage Association (ABA), which will donate US$100 million to improve plastic bottle recycling in four regions of the United States.
Since its establishment, the organization has been working hard to upgrade sorting, processing and recycling centers. It solves the "disposable" label for consumer education and keeps bottles away from oceans, rivers and landfills.
Strive for 100%, support innovators
U.S. plant-based beverage manufacturers have fulfilled their promise in 2019 to remove virgin plastic from packaging by this year. He said that by converting 20 million bottles of plastic into 100% post-consumer recycled plastic each year, it is possible to reduce greenhouse gas emissions by 922 tons of carbon dioxide.
The brand's green packaging initiatives include converting used plastic bottles into new ones, saving resources and reducing landfill waste without affecting the price of the final product.
Develop rPET for small companies
Because the transition to 100% rPET is costly, complicated, and may be out of reach for small brands, innovation in the plastics field is sought after by entrepreneurs.
PlastiSkul, a biotechnology company, creates a bio-based degradable plastic from agricultural waste, and uses low-tech and high-tech solutions that can be implemented in developing countries to convert plastic waste from micro-factories.
Based on the current trends in the plastics market, Sinopak needs to select and test the current filling bottles in order to provide customers with safer and safe drinking water.