Manufacturing Machines Automatic 5L Pet Plastic Bottle Handle Ring Lifting Insert Machinery From China
After filling, the product is transferred to the handle ring pressing machine. The ring pressing machine includes: material sliding groove, automatic ring lifting, ring lifting conveying, automatic hanging ring pressing, export inspection.Manually use the revolving stringing rod to string the arranged lifting rings from the box and transfer them to the machine's sliding groove. The end of the sliding groove is equipped with an automatic slitting device, and each lifting ring is released. The lifting ring is transferred to the host.When the bottle passes through the machine, the lifting ring is hung on the bottle mouth, and the lifting ring is automatically taken out, and the lifting ring is quickly inserted into the bottle mouth through the chute or pressing wheel. The dimensional accuracy of the device is guaranteed, and the design is based on the specific material size to ensure that there is no leakage pressure lifting ring.The exit of the machine is equipped with an automatic moni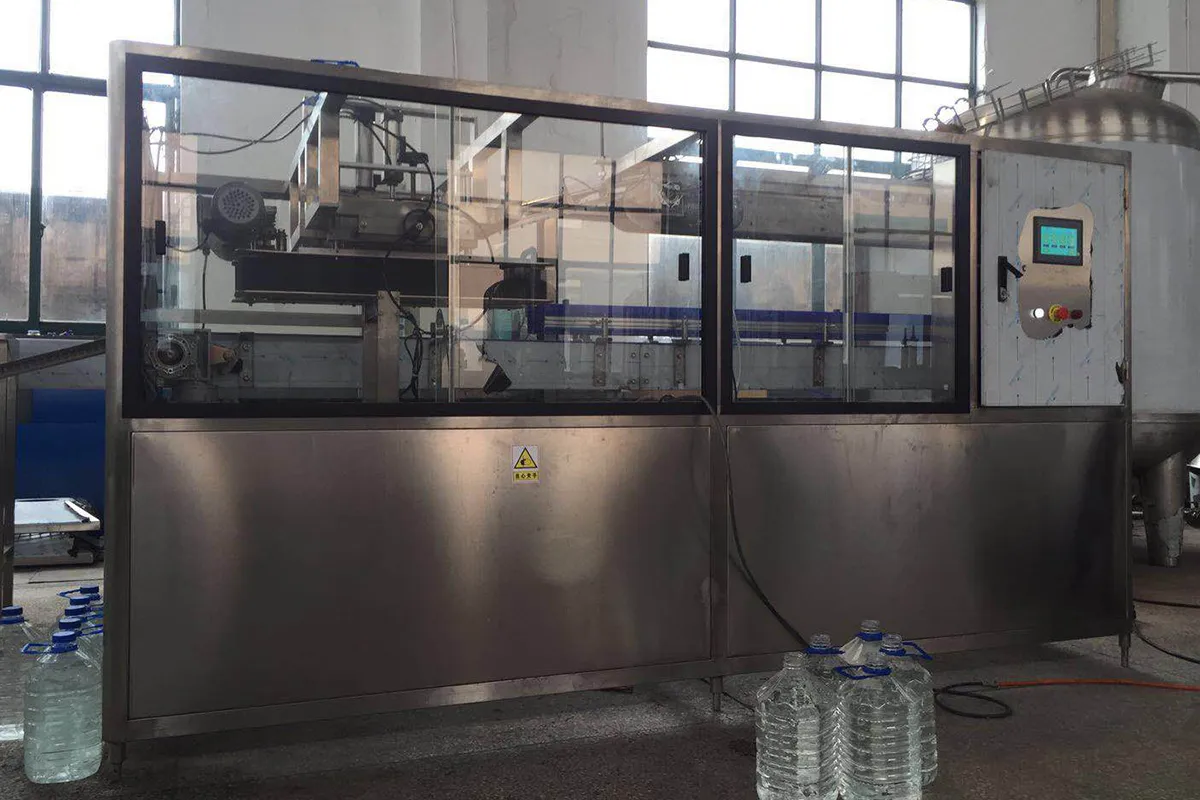 Flow chart:
1: Manually put the handle ring into the sliding groove-automatic slitting and lifting ring-belt conveying-the handle ring automatically hangs on the bottle mouth-press in the handle ring-press in and send to the next production link.
Technical parameters:
Production capacity: 3000BPH
Bottle volume: all bottles made of PVC, PP, PET materials
Air pressure: 0.6~0.8Mpa
Air consumption: 50L/min
Total power: 4.8kW
Size: Whole machine 4000×1200×1800mm
Weight: 800KG
Working principle :
After filling, the product is transferred to the handle ring pressing machine. The ring pressing machine includes: material sliding groove, automatic ring lifting, ring lifting conveying, automatic hanging ring pressing, export inspection.Manually use the revolving stringing rod to string the arranged lifting rings from the box and transfer them to the machine's sliding groove. The end of the sliding groove is equipped with an automatic slitting device, and each lifting ring is released. The lifting ring is transferred to the host.When the bottle passes through the machine, the lifting ring is hung on the bottle mouth, and the lifting ring is automatically taken out, and the lifting ring is quickly inserted into the bottle mouth through the chute or pressing wheel.  The dimensional accuracy of the device is guaranteed, and the design is based on the specific material size to ensure that there is no leakage pressure lifting ring.The exit of the machine is equipped with an automatic monitoring device to detect whether there is material shortage or pressure leakage, and give an alarm.