Drinking water sources are subject to contamination and require appropriate treatment to remove disease-causing agents. Public drinking water systems use various methods of water treatment to provide safe drinking water for their communities. Today, the most common steps in water treatment used by community water systems (mainly surface water treatment) include:
Coagulation and Flocculation
Coagulation and flocculation are often the first steps in water treatment. Chemicals with a positive charge are added to the water. The positive charge of these chemicals neutralizes the negative charge of dirt and other dissolved particles in the water. When this occurs, the particles bind with the chemicals and form larger particles, called floc.
Sedimentation
During sedimentation, floc settles to the bottom of the water supply, due to its weight. This settling process is called sedimentation.
Filtration
Once the floc has settled to the bottom of the water supply, the clear water on top will pass through filters of varying compositions (sand, gravel, and charcoal) and pore sizes, in order to remove dissolved particles, such as dust, parasites, bacteria, viruses, and chemicals.
Disinfection
After the water has been filtered, a disinfectant (for example, chlorine, chloramine) may be added in order to kill any remaining parasites, bacteria, and viruses, and to protect the water from germs when it is piped to homes and businesses.
Water Treatment System that SinoPAK Machinery Can Provide
Pre-treatment Machines Active Carbonated Filter Quartz Sand Filter
1.Quartz sand filter
High nickel 304 and 316 stainless steel tanks are used for automatic welding and double-sided forming welding. The internal and external polishing treatment reaches the sanitary standard and the internal is filled with high-quality quartz sand. The suspended solids, colloids and other harmful substances in the water are removed from the top to the bottom by using the deep filtering principle.
2.Activated carbon filter
304, 316 material tank body, automatic welding, double-sided forming welding, containing high-quality activated carbon, plus the chemical liquid or steam disinfection technique developed by Zhongguan. So that the activated carbon filter can not only better absorb the taste residual chlorine and organic matters in the water, but also not become a hotbed of bacteria.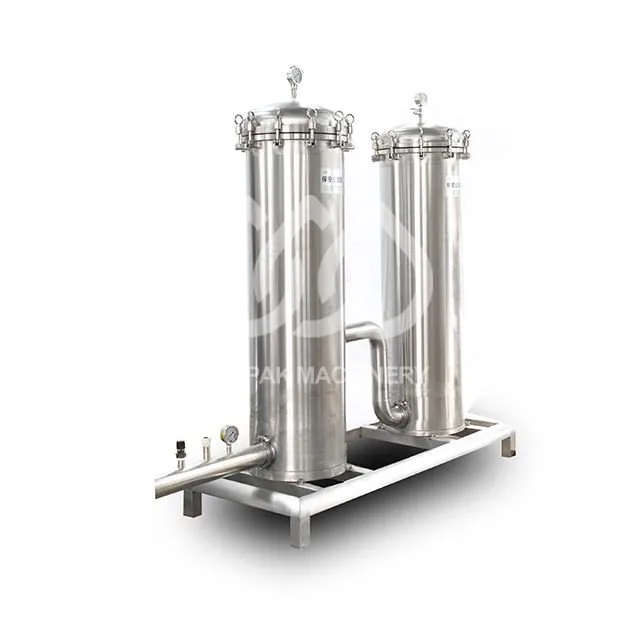 Water Treatment With Automatic Revers Osmosis System Underground Water Filter System
The membrane element is reverse osmosis, which can withstand the disinfection CIP treatment. The outer shell is made of glass fiber reinforced plastic and stainless steel. The inner wall and the used pipes are polished and passivated without dead angle and dead water area to prevent the growth of microorganisms. The valve table, seal ring and all pipelines are all equipped with German automatic welding equipment without wires. The automatic welding level reaches the design standards of hygienic level and water hammer resistance specified by FDA, and the pure water recovery rate reaches more than 80%.
The reverse osmosis device is an equipment to purify the pipeline water with the action of pressure difference of semi permanent memory. Water pump core of the equipment is imported, and the seep film is imported from having Co. in American. It is equipped with a full set of clean unit. It has features of simple structure, conservative operation. And high technical level. The quality of the processed water can meet the standard of national driving water.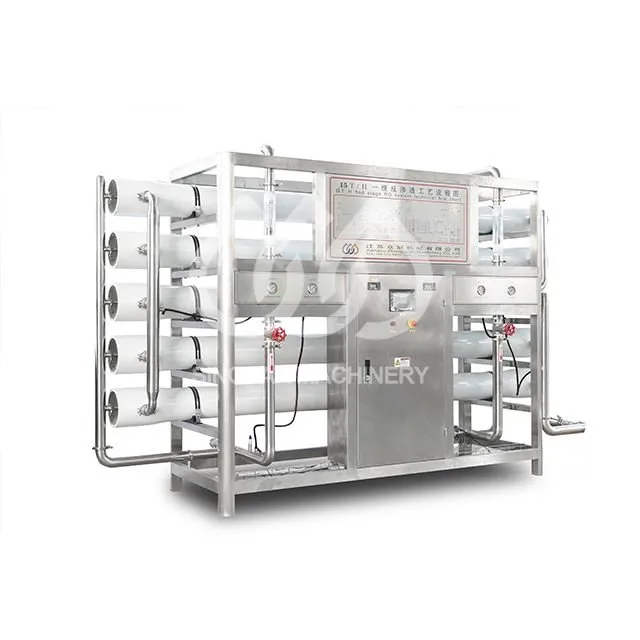 About Us
Located in Zhangjiagang City, Jiangsu SinoPAK Machinery Co.,Ltd is focusing on manufacturing the beverage bottling machinery and turn-keyplant.
With modern standard plant, advanced technology, excellent processing equipment and well-disciplined employees, we can manufacture all kinds of high-quality beverages illing machines machinery and auxiliary equipment.
We also possess authoritative certificates such as CE certificate, ISO9001-2000certificate etc. SinoPAK always provides good after services to our customers. If you are looking for a reliable merchandise of Water Treatment System, Please contact us now!