XGF4-4-1 Washing Filling Capping Machine For 5-10L Large Plastic Bottle
As a professional China Linear filling machine automatic filling machine expert, we provide barrel filling machine big plastic bottle washing filling capping machine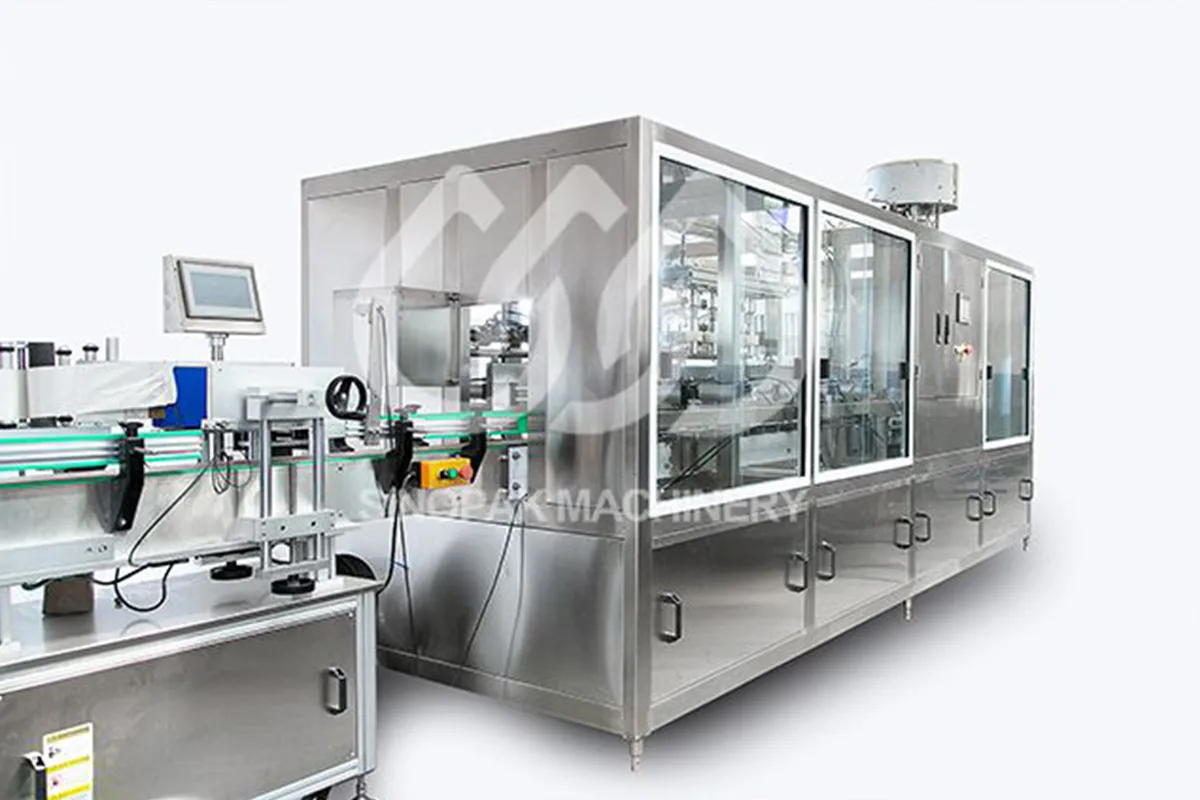 Our auto filling line meets the hygienic standard of water manufacturer industry
The electric part of filling machine adopts domestic and famous brands, it has some features such as technological advance, high automation, ease of operation, reliably perform, compares with the domestic similar products, this filling machine has the smaller volume, lighter , elegant appearance, thorough disinfection, so it can prevent the air pollution effectively, guaranteed that the product has high quality.
Washing part 
In the washing part, there have several rinsing heads, it starts with little noise, reasonable design, easy to disassemble and assembly, easy to operate, etc. it is widely used for water, wine big bottles.
Filling part
In this part, there have several filling heads, the technology is based on introduction and digestion from aboard advanced technology, according to China's beverage filling craft,  innovate and develop to advanced level of filling equipment, it is mainly used for pure water, mineral water and other non-carbonated drinks in the big bottles. The features are such as advanced structure, smooth, reliable, easy to operate, can be variable speed, high efficiency.
Capping part
It adopts ALCOA company's technology from France,with magnetic capping,
overload protection, and reliable torque without phenomenon of gnawing cap, high cap, crooked cap.
1) Transmission system: Motor, spindle, worm, limit position electric eye;
2) Auto capping put down system: Micro-motor, stirring cap handling device, under cap tracks;
3) Capping system: it mainly includes gland mold, capping head.
4) Stepless change.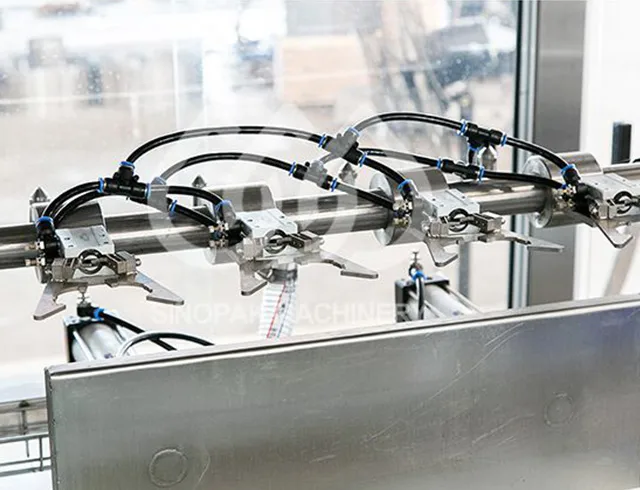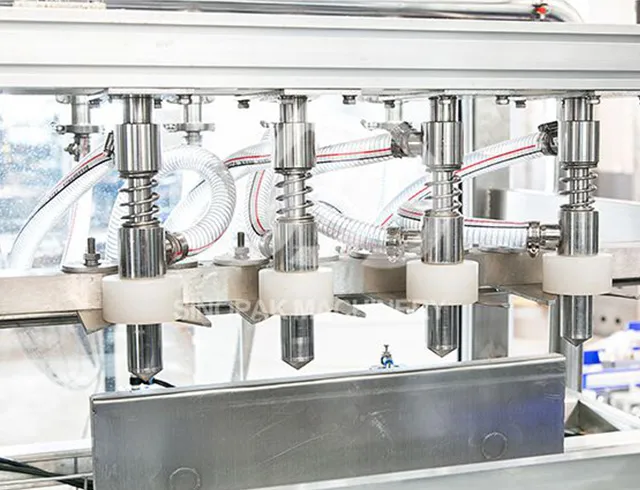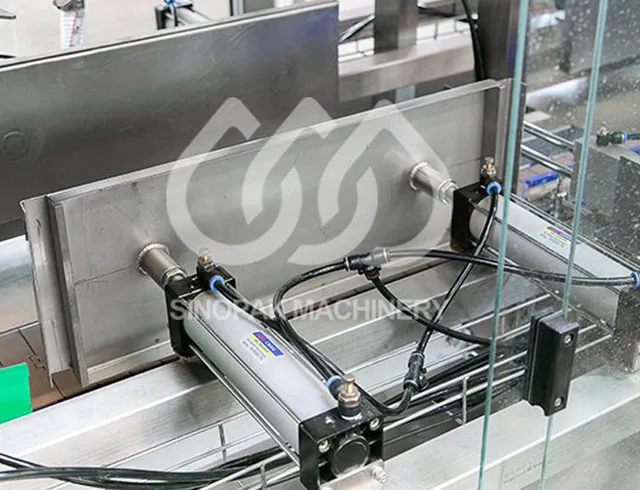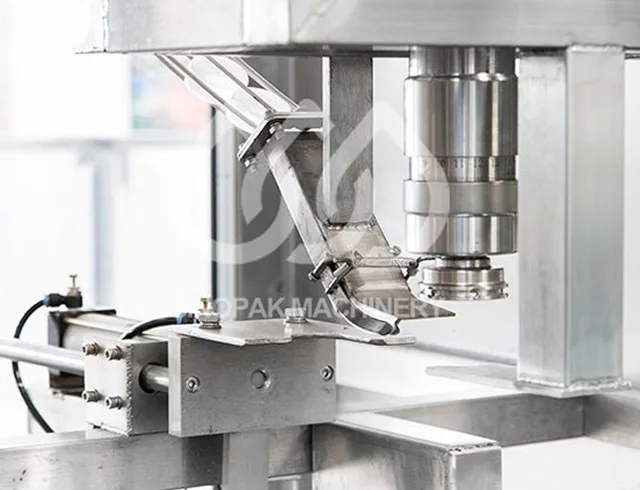 | | |
| --- | --- |
| Item | 1000ml bottle 150-200BPH line |
| Working Position | Washing2,filling2,capping 1 |
| capacity | 150-200BPH |
| Air pressure | 0.7Mpa |
| Air consumption | 1.0M3/min |
| Washing water pressure | 0.2~0.25 Mpa |
| Washing water consumption | 1.0T/Hr |
| Filling style | Gravity filling, normal pressure filling |
| Main motor power | 1.5KW |
| Total power | 2.2KW |
| Power supply | 380V 50—60HZ |
| Size | 15000×1100×2200mm (L×W×H) |
| weight | 2500Kg |
Packaging & Shipping
Packaging
As usual, we adopt wooden case as package type. It's suitable for long-distance transport.According to customers' special demand, we could adopt sheet iron case and so on.
Shipping
Generally, it will take 30 to 60 days after receiving your advance payment. The specific delivery time depends on the items and the quantity of your order.
Warranty
1.We guarantee all our machine, parts for TWO years.
2.We provide technology training for free, which contains the operation and maintenance training of the machine in the     factory.
3.After warranty ,we also can offer you the parts for replacement at our bottom price.
4.After sales, if you have any problem about our product, you can inform us by Email, we will reply you at once when we     get it and offer you a good solution to solve the problem.
3 Gallon -5 Gallon Bottle Water Filling Machine
The series of machine integrate rinsing, contain rinser-filler-capper monoblock, automatic loading machine, bottle outside washer, bottle inside washer, decapper, heating shrink tunnel, conveyor system, complete line control system.The one unit main machine includes the washer, dryer, filler and capper for the production of 3-5 gallon barreled drinking water. The washing process includes alkaline liquid inside and outside washing by dirty remover! inside and outside washing by disinfecting water inside and outside washing by pure water, the alkaline and disinfecting water can be used cyclically. The whole Washing, filling and sealing price is controlled by PC, and has the safe device for interlock, signal and self-detection.
5 Gallon Water Production Line Flow chart

| | | | | | | | |
| --- | --- | --- | --- | --- | --- | --- | --- |
| Model | QGF-100 | QGF-300 | QGF-450 | QGF-600 | QGF-900 | QGF-1200 | QGF-2400 |
| Filling Heads | 1 | 2 | 3 | 4 | 6 | 12 | 16 |
| Capacity(BPH) | 100 | 300 | 450 | 600 | 900 | 1200 | 2400 |
| Gas consumption(m3/hr) | 0.37 | 0.6 | 0.8 | 1 | 1.5 | 1.8 | 1.8 |
| Powder(KW) | 1.4 | 4 | 4 | 7.5 | 10 | 16 | 16 |
| Weight(kg) | 500 | 1500 | 2100 | 3000 | 4300 | 6000 | 6000 |