Automatic High Speed 12000bph PET Bottle Unscrambler
The machine is used for ordering disordered polyester bottles. The disordered bottles are carried into the storing bottle section by elevator. With the help of the pushing force of the rotating disk, the bottles enter their position. With the function of the turning bottle device and the air-flow, the bottles are ordered into bottle mouth-up-position and are carried into the next process with the air-transferring type conveying bottle system.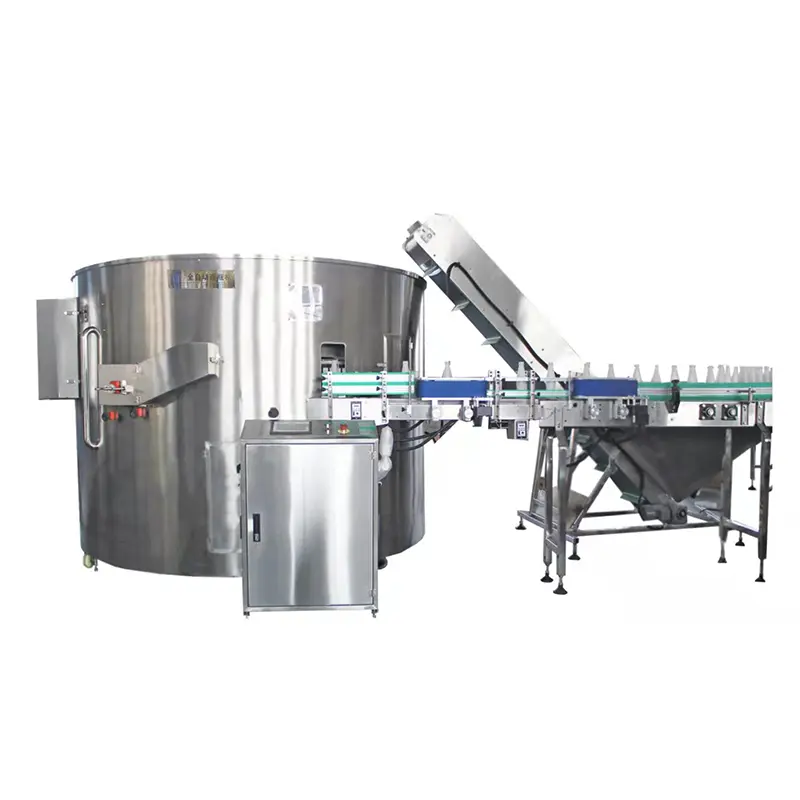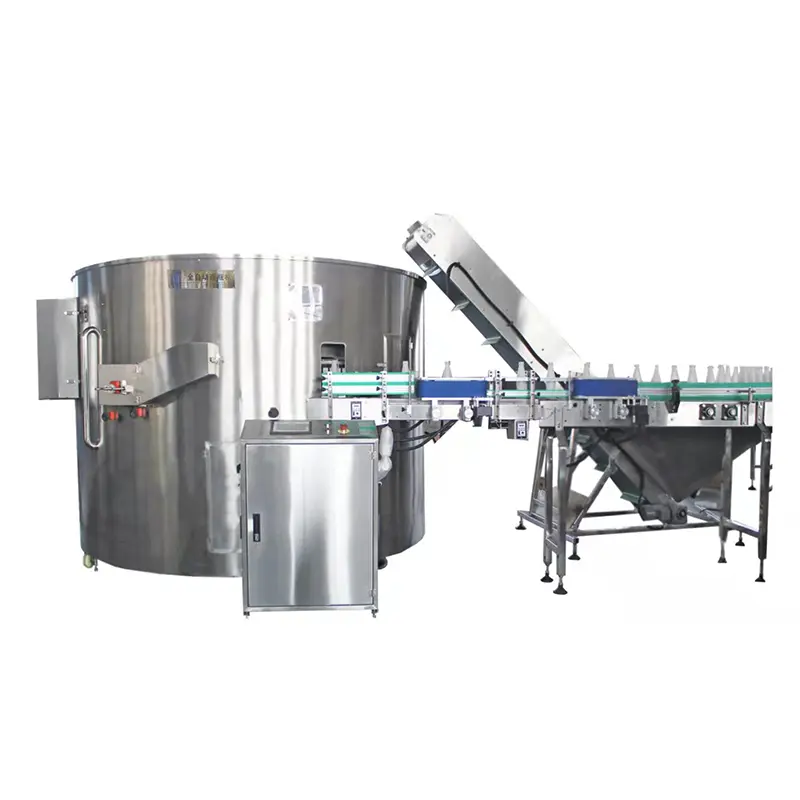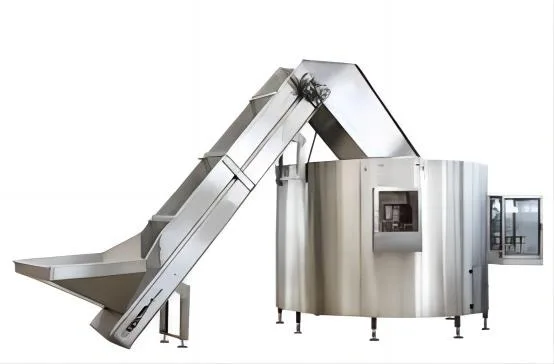 Main features : 
The machine adopts PLC computer control, frequency control to adjust its production capacity. It has a screener to automatically remove non-standard bottles.
The main motor reducer using a torque limiting mechanism to prevent damage to the machine when a failure occurs.
Using hanging bottle conveying duct, to avoid tipping the bottle at the time of delivery.
Excluding agency has broken bottle.
Unscrambler has a grease nipple can be easily to gears, bearings and cam filling oil.
| | | | | | | |
| --- | --- | --- | --- | --- | --- | --- |
| Model | LP-12 | LP-14 | LP-16 | LP-18 | LP-21 | LP-24 |
| Output (BPH) | 6,000 | 8,000 | 10,000-12,000 | 20,000 | 24,000 | 30,000 |
| Main Power | 1.5 kw | 1.5 kw | 1.5 kw | 3 kw | 3 kw | 3.7 kw |
| Size D×H (mm) | φ1700×2000 | φ2240×2200 | φ2240×2200 | φ2640×2300 | φ3020×2650 | φ3400×2650 |
| Weight(KG) | 2,000 | 3,200 | 3,500 | 4,000kg | 4,500kg | 5,000kg |
Production Lines Flow Chart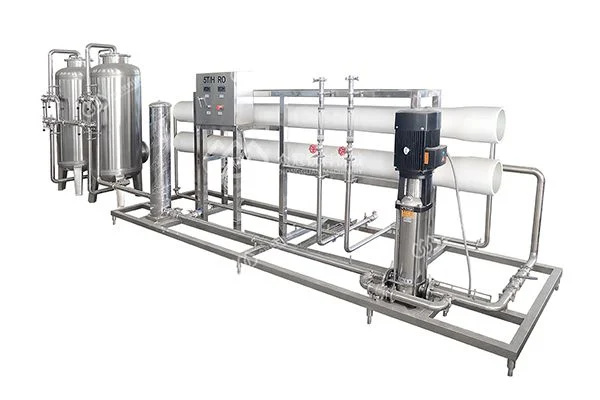 Water purification machine to treat fresh water for pure, drinking, mineral water. Our plant could make drinking water, mineral water, pure water and potable water from the water sources: Ground, spring, well, river, brackish, lake water and etc.
Raw water source: Bore whole, river, well, mountain spring, lake, etc
Automatic blow molding machine is suitable for producing PET plastic containers and bottles in all shapes. It is widely used to produce the carbonated bottle, mineral water, pesticide bottle oil bottle cosmetics, wide-mouth bottle and hot fill bottle etc.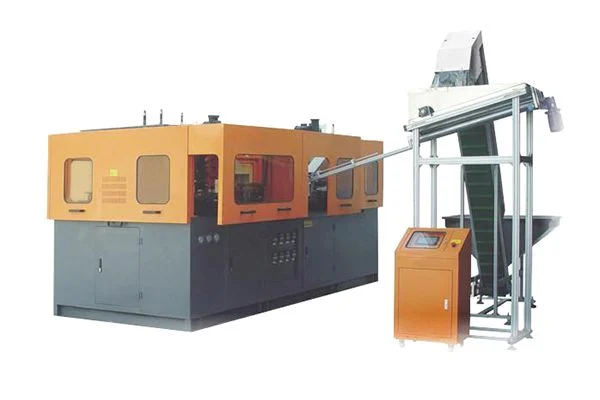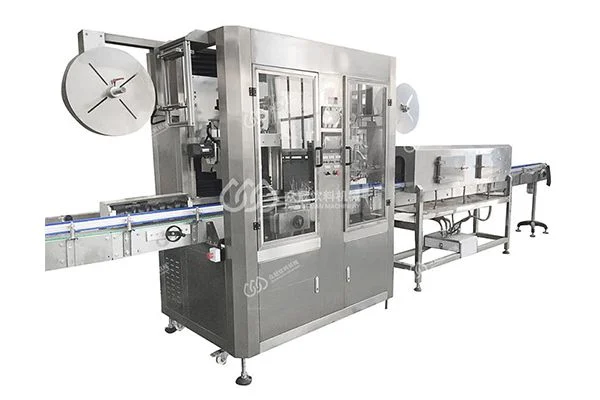 Automatic labeling machine
It adopts double driving structure which is a new and advanced driving device for the thermal shrink sleeve machine, that is, four-wheel driving, self-centering and balanced pressure of four wheels. It can achieve the good effect of transmission of labels smoothly, stably and rapidly.
This Pet Bottle Shrink Wrapping Machine is a kind of automatic unmanned operation of the L type sealing and cutting machine, widely used in mass production packaging line production, suitable for different width and height products. The Pet Bottle Shrink Wrapping Machine also has the function of contact , specially designed for packing small products.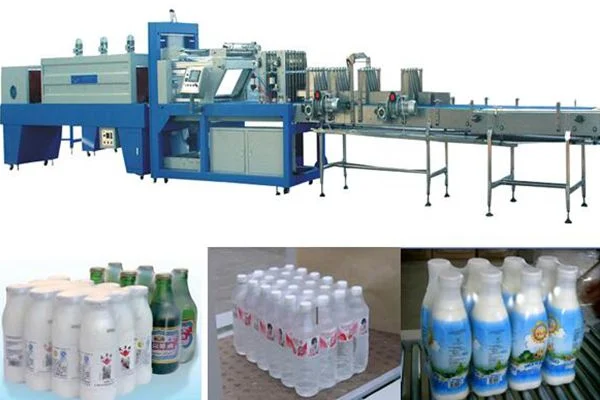 It is used for different shapes and materials bottle and container (round, square, flst etc.)
It is widely used in pharmaceutical fields, health care products fields, foods etc.
It can be controlled only one switch and one frequency knob, very convenient.
When you want to change the exit width, you only need adjust the copper nut.
The main motor speed reducer applies torque limit mechanism to avoid harming the machine when trouble happens.
Twice push rowing bottle mechanism is used to ensure every bottle location has bottle which apparently prompts bottle output efficiency.
Bottle handling air conveyor prevents bottles from dropping down when in transportation.
Damaged bottles shall be rejected according to the reject mechanism.
This machine is equipped with blocking bottle detector. It will stop and alarm when bottle blocks.
No-bottle detector will send signal to elevator immediately when the bottle quantity is few and elevator shall supply bottles automatically.
Photoelectric switch is installed on the air conveyor to control the unscramble machine.
Bottle unscramble machine has oil mouths which make the gear, bearing and cam lubrication conveniently.
Main electrical appliance (Inverter, PLC, Photoelectric switch, Relay) is from MITSUBISHI, OMRON, SIMENS and so on
Air system uses TAIWAN AIRTAC.