900BPH 5 Gallon Water Bottle Filling Machine Line Price
The series of machine integrate rinsing, contain rinser-filler-capper monoblock, automatic loading machine, bottle outside washer, bottle inside washer, decapper, heating shrink tunnel, conveyor system, complete line control system.
The one unit main machine includes the washer, dryer, filler and capper for the production of 3-5 gallon barreled drinking water. The washing process includes alkaline liquid inside and outside washing by dirty remover! inside and outside washing by disinfecting water inside and outside washing by pure water, the alkaline and disinfecting water can be used cyclically. The whole Washing, filling and sealing price is controlled by PC, and has the safe device for interlock, signal and self-detection.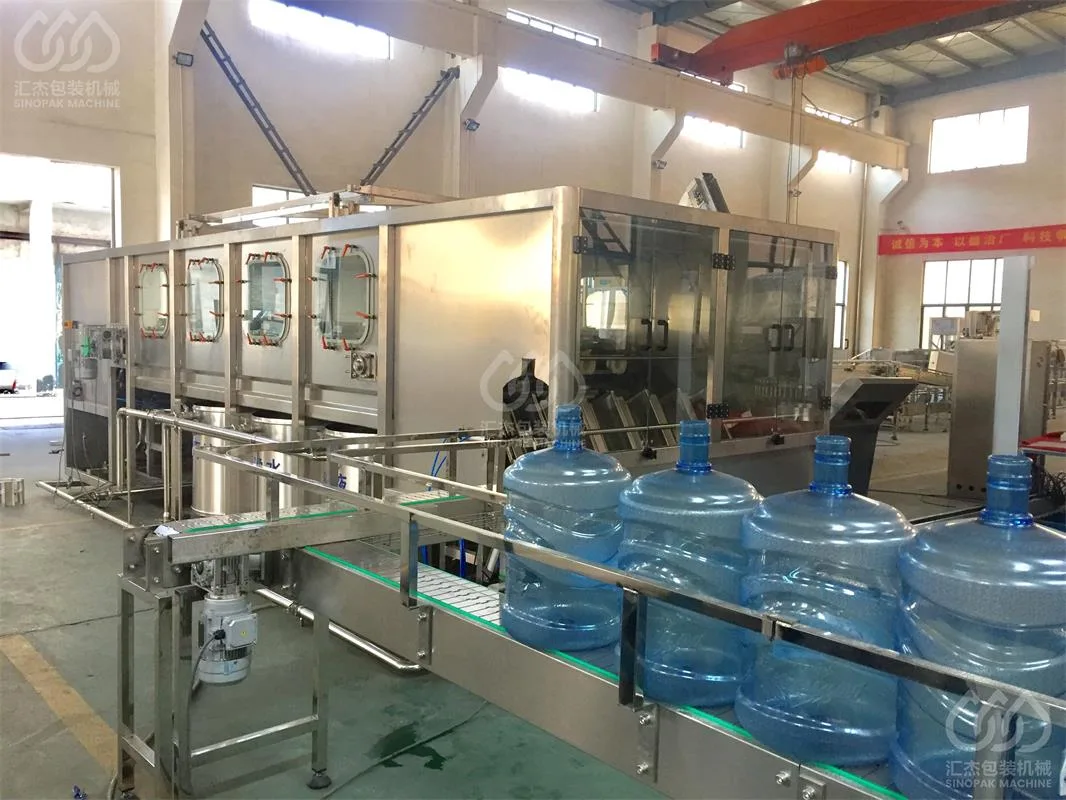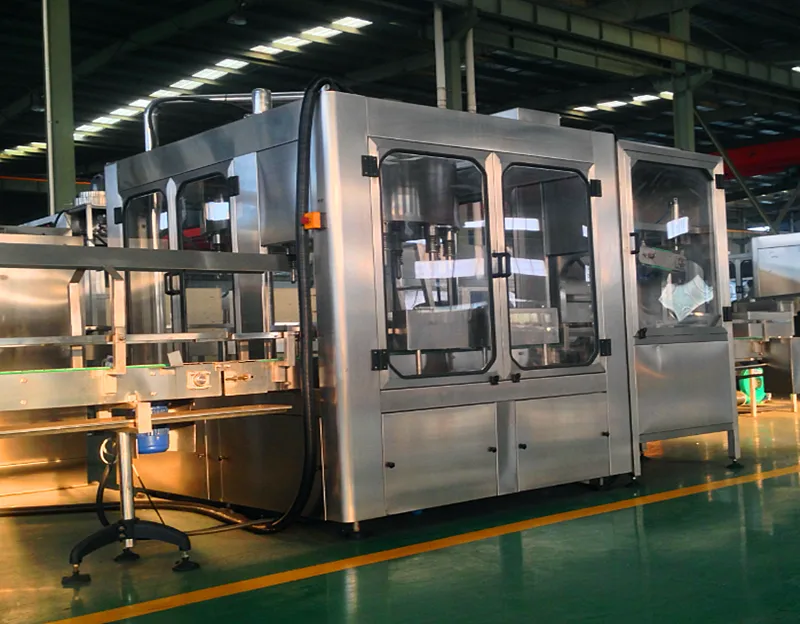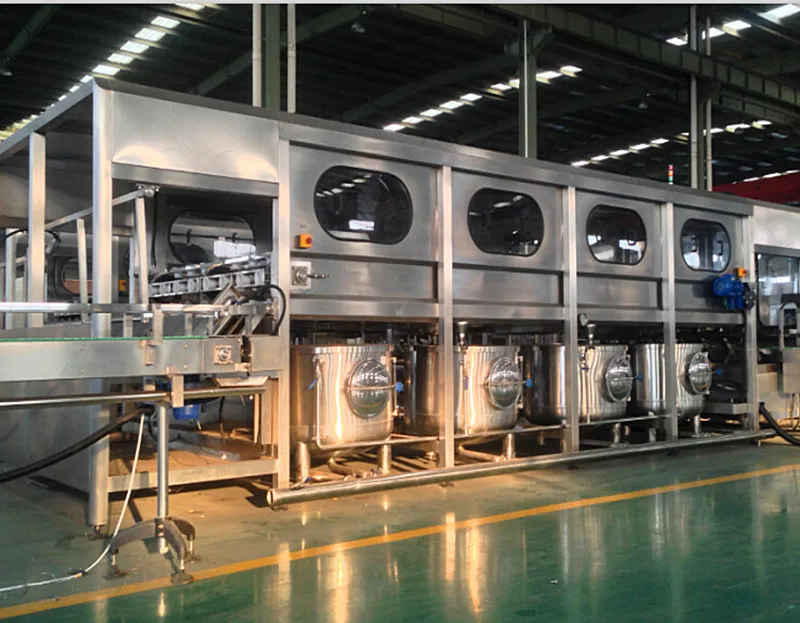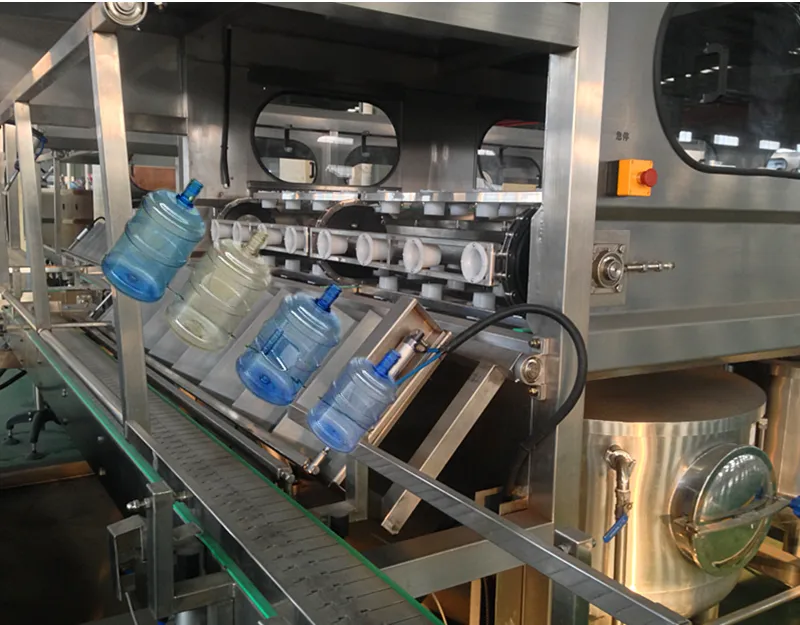 Main features : 
The whole process is controlled by a computer or PLC with a high degree of automation.
Optional Internet-ready smart plant management software collects, transmits, stores, counts and analyzes real-time data, making remote control and digital production management easy.
Optimized technology reduces operating costs by reducing the consumption of water, electricity, and chemical materials.
The entire line is designed to fully comply with food safety quality regulations, avoiding dead spots, dead ends, static liquids, threaded joints, etc.
Extensive use of adapters, manholes, valves, etc. ensures the safety and easy maintenance.
The combination of proven technology and constant innovation ensures stability and reliability.
Technical parameter :3 -5gallon water filling machine

Model

QGF-100

QGF-300

QGF-450

QGF-600

QGF-900

QGF-1200

Capacity (for 5 gallon)

60-100bph

300bph

450bph

600bph

900bph

1200bph

Suitable bottle shapes

PET circular or square

Bottle volume 

3 & 5 Gallon

Compressor air

0.3-0.7Mpa

Air consumption

0.37 m3/min

Rinsing pressure

>0.06Mpa <0.2Mpa

Application

3 gallon water filling machine

Total power (KW)

1.5kw

3.8kw

4.5kw

5.2kw

6.2kw

7.8kw

Overall dimensions

2.3*1.9m

2.5*1.9m

2.8*2.15m

3.1*2.5m

3.8*2.8m

4.5*3.3m

   Height 

1.8m

2m

2.2m

2.3m

2.5m

2.6m

Weight(kg)

800kg

1500kg

2000kg

2500kg

2800kg

3500kg
Production Lines Flow Chart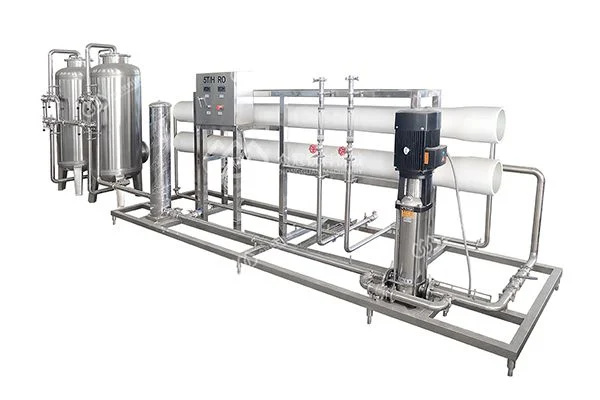 Water purification machine to treat fresh water for pure, drinking, mineral water. Our plant could make drinking water, mineral water, pure water and potable water from the water sources: Ground, spring, well, river, brackish, lake water and etc.
Raw water source: Bore whole, river, well, mountain spring, lake, etc
Automatic blow molding machine is suitable for producing PET plastic containers and bottles in all shapes. It is widely used to produce the carbonated bottle, mineral water, pesticide bottle oil bottle cosmetics, wide-mouth bottle and hot fill bottle etc.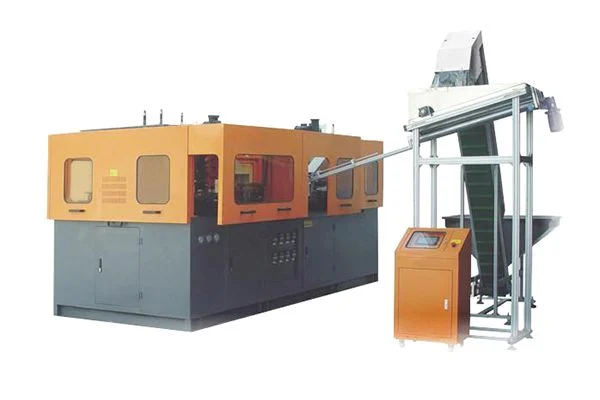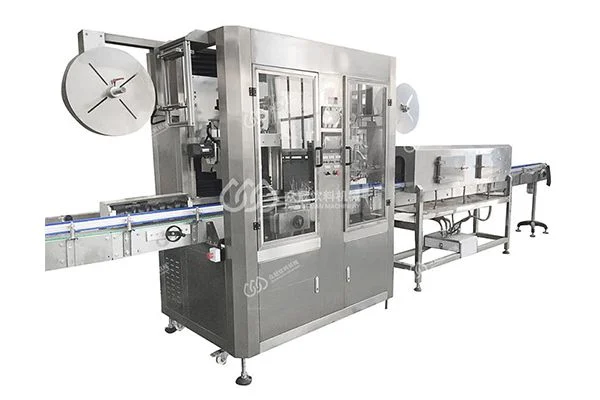 Automatic labeling machine
It adopts double driving structure which is a new and advanced driving device for the thermal shrink sleeve machine, that is, four-wheel driving, self-centering and balanced pressure of four wheels. It can achieve the good effect of transmission of labels smoothly, stably and rapidly.
This Pet Bottle Shrink Wrapping Machine is a kind of automatic unmanned operation of the L type sealing and cutting machine, widely used in mass production packaging line production, suitable for different width and height products. The Pet Bottle Shrink Wrapping Machine also has the function of contact , specially designed for packing small products.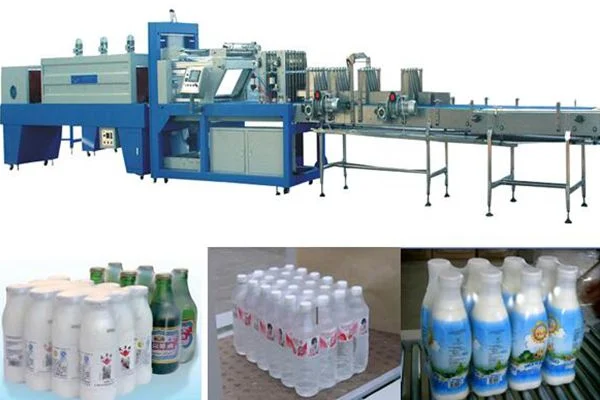 The 5-gallon water production line consists of empty bottle transfer, inner bottle brushing, automatic cap removal, outer bottle brushing, rinsing, filling and capping, light inspection machine, necking machine, bagging, full bottle transfer, and palletizing machine to achieve fully automatic and intelligent production. The whole process is strictly controlled to ensure full compliance with the customer's local standards and the regulations set by their health department. Secondary contamination is strictly controlled during the filling process, which makes it an ultra-clean line. This is one of the most ideal, recognized, and reliable automatic gallon water production lines for companies and plants. The line is mainly used to fill 3 and 5 gallons of pure or mineral water.